How to Connect and Use Apple CarPlay
As Apple CarPlay becomes more popular, more drivers wonder how to set it up in their cars. We've put together easy-to-follow instructions for setting up and using Apple CarPlay in your car. Let's get this party started.
Be aware of CarPlay's restrictions. You may think of CarPlay as a second screen for some of your iPhone's functionality. CarPlay will use your iPhone's GPS for mapping rather than the car's built-in GPS since your iPhone will still handle all of the work. CarPlay is also not compatible with any of your car's settings, such as the interior lighting. CarPlay, on the other hand, is meant to provide you hands-free access to iPhone features you'll use the most while driving, such as Maps, Music, Phone, Podcasts, and so on. To utilize CarPlay, you must have an iPhone 5 or later.
Double-check that your automobile receiver is compatible. CarPlay is available in over 600 car models. Most car stereo dealers can install a third-party receiver if your car doesn't have a CarPlay-compatible infotainment system.
Hook up your iPhone to the receiver.
Start the CarPlay software on your receiver.
Press the Continue button on the car receiver.
Read the agreements and press Agree.
Tap Continue after turning on 911 Assist (optional).
Tap Allow on your phone.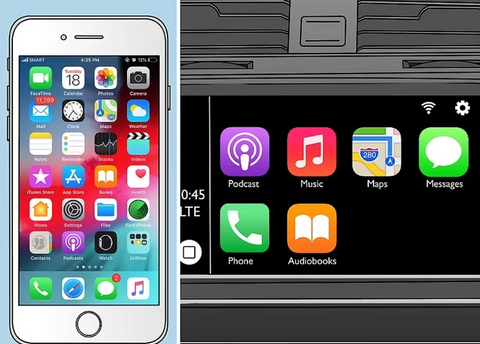 Getting Started with CarPlay 
To navigate the system, use the touch screen in your car.
To see your applications, swipe left or press the icon with eight squares.
To return to the widgets screen, press the icon with a large square & three rectangles.
Use physical controls and built-in knobs. CarPlay will operate with any infotainment system that includes knobs or other tactile control techniques. Toggle between the CarPlay options by twisting the knob, then push the button to pick one.
Control CarPlay hands-free by using Siri.
To return to your car's system, tap the icon with the car's logo.
Start Siri. 
Say "Call Name" or "Call Phone Number" and Siri will dial the number. 
Use your car stereo to call. The call will be received through the speakers in your car.
Use the Hang Up button on the CarPlay screen to finish the call. Part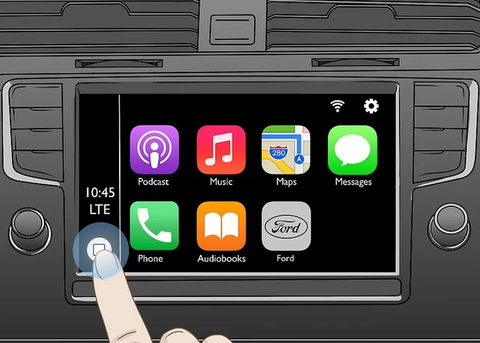 Activate Siri. With only a few commands, Siri can locate sites and generate driving directions for you. You won't have to look away from the road.
Say "Give me direction to (Location).". A street address, a city, or a landmark can all be used.
Make use of Siri to seek things nearby. This enables you to locate local establishments such as petrol stations or cafes.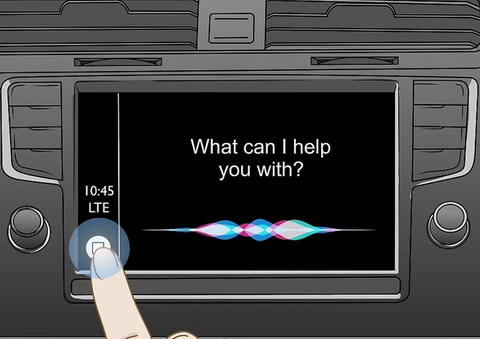 Make sure your iPhone has music or a streaming service.
Open Siri.
Tell Siri to turn on the music. Siri understands a wide range of music-related requests, so you can pretty much ask Siri to play anything. "Play music by Artist," for example, will begin a playlist of songs by that artist.
Control playback using Siri. To shuffle your current playlist, say "Turn shuffle on." To stop music from playing, say "Pause" or "Stop," and to restart it, say "Play." By pressing the icons on the Apple Music widget on the CarPlay screen, you may also pause, play, go back, or go to the next song.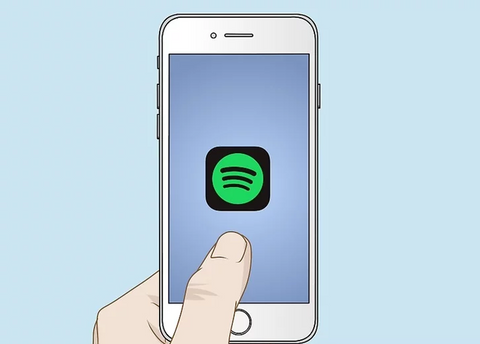 Wired CarPlay is quite awesome, and wireless CarPlay is more impressive. If your car has the wired carplay function but no wireless carplay, the Carply dongle from One Car Stereo is highly recommended for much more functions.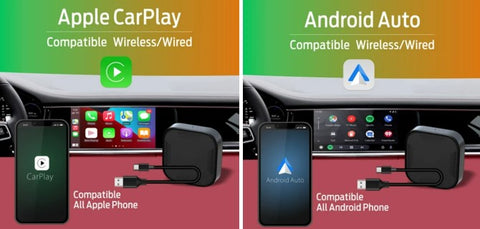 ---